Summer Skincare Swaps: Embrace the Sun with a Radiant Glow
The sunny days of summer are upon us, and it's time to give our skincare routines a seasonal refresh. You might be thinking, "Why should I change my skincare routine in the summer?" Just like we change our wardrobes to suit the weather, our skin's needs also require special attention during the warmer months. The higher temperatures, increased humidity, and longer exposure to sunlight call for some adjustments in our skincare products and regimes to maintain healthy glowing skin.
So, let's dive into some essential summer skincare swaps to keep our skin healthy, radiant, and ready to embrace the summer glow.
Lightweight Hydration: Swap Oils for Serums
As the heat and humidity rise, it's wise to swap out your facial oils for a lightweight serum. While facial oils are fantastic for locking in moisture during the colder months, they can feel a bit too greasy under the hot sun. This doesn't mean you should forbid the use of oils completely – just keep it for the night time when the skin is regenerating and remember that due to skin's absorption mechanisms, it's important to keep oils for the last step of a nighttime routine, after your moisturiser. 
Serums, on the other hand , are water-based formulas which absorb quickly into the skin, providing ample hydrating without the heaviness of an oil.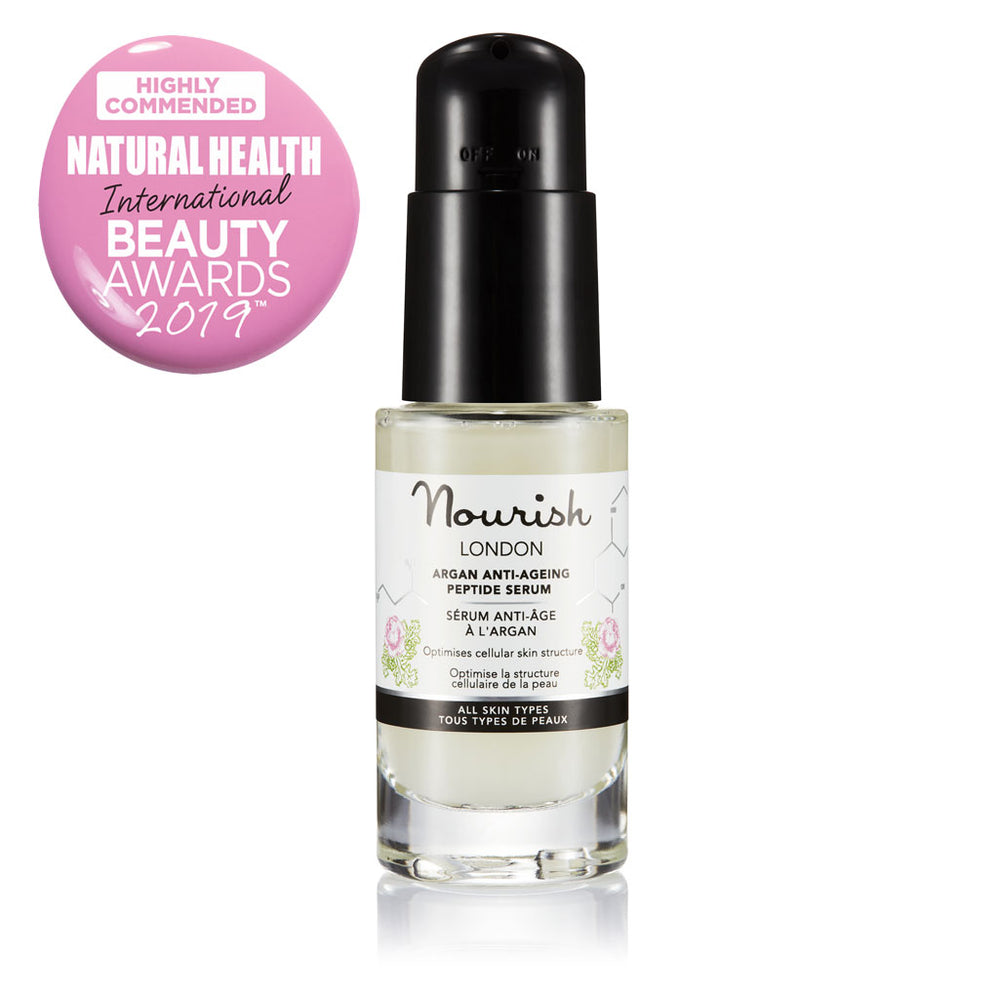 Our award winning supercharged
Argan Anti-Ageing Peptide Serum
is formulated with peptides and hyaluronic acid, optimising cellular skin structure and countering the signs of ageing whilst peptides stimulate the production of collagen, reducing the appearance of fine lines and wrinkles. 
Argan oil and hyaluronic acid hydrate and replenish the skin, leaving it healthy-looking and soft. Kale protects against pollution and minimises signs of ageing whilst tonka bean extract boosts natural luminosity. 
Apply a few drops to the skin before your moisturiser.
Hydration Is Key To A Healthy Skin Barrier
Whatever the weather, hydration is one of the most important skincare steps for a healthy glow, but particularly in the summer due to the hot and dry conditions. Appropriately hydrated skin acts as a barrier against harmful environmental pollution and UV rays (always wear your SPF!) and when the skin is dry and damaged, it becomes susceptible to sunburn and premature ageing (
photo-ageing
).
That's why it's crucial you keep your skin adequately moisturised and hydrated throughout the day. Our multi-tasking 
Antioxidant Peptide Mist
 – formulated with peptides, a soothing blend of essential oils and natural antioxidants – will instantly hydrate, brighten, and protect your skin barrier, reinforcing its natural defences against environmental damage. 
When applied before or after other skincare products, mists can help enhance the absorption of subsequent products, such as serums and moisturisers. The added moisture can assist in better product penetration, making them more effective.
Mists are generally easy to use and convenient, especially when you're on the go or need a quick skin pick-me-up during the day. Apply after cleansing like a normal toner, and re-apply throughout the day when your skin needs refreshment. You can spritz them directly onto your face without the need for cotton pads or additional steps, and it can be used on top of makeup too.
Did you know you can also use it as a hair mist?
Here's what our customers love about the Antioxidant Peptide Mist!
SPF, rain or shine.
Although your SPF should be the last step of your routine all year round, a summer routine absolutely requires sunscreen to ensure you're giving your skin enough protection against harmful UV rays. 
If you're eager to simplify in your routine, our 
Skin Protecting Daily Moisturiser SPF25
 is the perfect addition to a minimalist skincare routine, as you can use it instead of your everyday moisturiser, with added SPF protection. 
Our clinically proven, certified vegan and organic 
Skin Protecting Daily Moisturiser SPF25
 is a natural mineral sun filter which not only nourishes and hydrates the skin, but also delivers broad spectrum protection against those damaging UVA/UVB rays.  
The addition of Hexapeptides and Hyaluronic Acid hydrate and quench the skin, restoring the skin's natural water barrier, and helping to bind water to the skin, improving dryness and improving skin elasticity. 
P.S. paediatrician approved - so gentle it's safe to use even on babies!